Passing by the office of the Journal pour Rire, the father and son gaping in all the windows like true rustics, they saw announced an illustrated edition of The Labors of Hercules. Some of the illustrations were shown in the window with the hope of tempting possible buyers. Gustave looked upon these illustrations with critical eye and his face flushed scarlet—but he said nothing.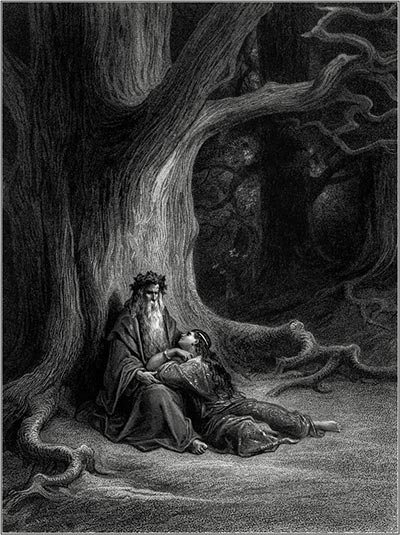 He knew the book; aye, every tale in it, with all its possible variations, had long been to him a bit of true history. To him Hercules lived yesterday, and, confusing hearsay with memory, he was almost ready to swear that he was present and used a shovel when the strong man cleaned the Augean stables.
The next morning, when his father and brother were ready to go to visit the Polytechnique, Gustave pleaded illness and was allowed to lie abed. But no sooner was he alone than he seized pencil and paper and began to make pictures illustrating The Labors of Hercules. In two hours he had half a dozen pictures done, and fearing the return of his father he hurried with his pictures to monsieur Philipon, director of the Journal pour Rire. He shouldered past the attendants, pushed his way into the office of the great man, and spreading his pictures out on the desk cried, "Look here, sir! that is the way The Labors of Hercules should be illustrated!"
It was the action of one absorbed and lost in an idea. Had he taken thought he would have hesitated, been abashed, self-conscious—and probably been repulsed by the flunkeys before seeing monsieur Philipon. It was all the sublime effrontery and conceit—or naturalness, if you please—of a country bumpkin who did not know his place.
Philipon glanced at the pictures and then looked at the boy. Then he looked at the pictures. He called to another man in an adjoining room and they both looked at the pictures. Then they consulted in an undertone. It was suggested that the boy draw another illustration right there and then. They wished to make sure that he himself did the work, and they wanted to see how long it took. Gustave sat down and drew another picture.
Philipon refused to let the lad leave the office, and despatched a messenger for his father. When the father arrived, a contract was drawn up and signed, whereby it was provided that the "infant" should remain with Philipon for three years, on a yearly salary of five thousand francs, with the proviso that the lad should attend the school, Lycée Charlemagne, for four hours every day.