Gavarni made a singularly awkward entry in London. He had left France with the declared intention to take high society and the court as subjects for his observation and drawings. The English aristocracy, for its part, thought of Gavarni exclusively as "the painter of French elegance" and expected him to become the painter of British elegance. Gavarni must have seen at first glance, immediately upon his arrival, that the mistake was on both sides, and that the role of quasi-official artist of fashion did not suit him at all. He evaded this situation much more abruptly than was necessary to the point that he refused to do the portraits of the Queen and of Prince Albert. Here's what Sainte-Beuve reports on this matter: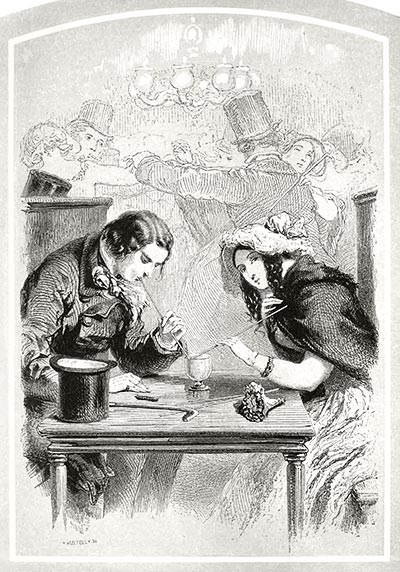 Gavarni arrived preceded by his reputation as a witty painter of Parisian society life and elegance. The British aristocracy thought that it had found in him an artist to its liking, but soon realized that it had taken too much for granted.
When he first arrived, he had the intention to put to good use the opportunities that were kindly offered to him. The duc de Montpensier provided him with an introduction to Prince Albert. Mr. Antoine de Latour, in the name of the duc de Montpensier wrote to Gavarni on January 25, 1848: His Royal Highness has been informed that Queen Victoria was surprised to have not seen you yet. If you are anxious to do Her Majesty's portrait, know that Her Majesty is just as impatient to pose for you. It is a propitious moment from which you'll benefit, and I hope to please you by letting you know.

Mr. Meyer invited Gavarni to come to Windsor on February 2, on behalf of Prince Albert. You'll find, he said, that Her Royal Highness is quite willing to pose for you. Gavarni was granted the audience and didn't follow up. The amiable Comte d'Orsay, who supported him at the court and in high society circles, might just as well have spared himself the trouble."
There is something strange and unexplained about this long exile of Gavarni in London, far away from his family, from his home, in this secluded, contemplative and isolated existence, devoted to thought and meditation, and to misanthropy. This was the time when Gavarni began to be absorbed in his fantasies of mathematics, of celestial mechanics and scientific inventions, and to fill the margins of his drawings with equations.
The time spent by Gavarni in London is an interval between the two main parts of his work. This is not to say that he didn't draw in London: he made superb watercolors, and drawings on wood for Gavarni in London, the Illustrated London News, the French magazine L'Illustration, etc… As regards lithographs, we must mention an outstanding piece, the famous Piper, a remembrance of a trip to Scotland.