Victo was born in Hong Kong, in 1988. She is a graduate from the Rhode Island School of Design and her published work includes illustrations for Plansponsor magazine, AI5000 Electronic magazine, etc. She is willing to take commissions.

Old Book Illustrations: Your work is somewhat remiscent of Japanese woodblock prints, with its strong linear quality, its vigorous contrasts and the favored use of flat, subdued colors… can you tell us a bit about your technique and how you came to elaborate it?
Victo Ngai: I do have a strong influence from Japanese woodblock prints, or rather, Asian arts and crafts in general. And I think it is largely because of my cultural background.
My portfolio teacher Chris Buzelli once told me this:
Style is overrated. Style merely means one's habit of drawing based on one's own experiences. Therefore everyone has a unique style because everyone has a unique life.
I think this is very true and very well said.
Everything I saw when I was growing up contributed to my preferences, my way of thinking and the decisions I make in illustration nowadays. Therefore, strangely enough, I didn't realize my influences until people around me pointed them out.
About my technique, I usually work both traditionally and digitally. The lines are done with nib pens or rapidograph pens. The textures are done on different pieces of paper with various mediums, like graphite, acrylic, oil pastels… depending on what look I am trying to achieve. Then everything is digitally composed and colored in Adobe Photoshop.
OBI: There is great vigour and forcefulness in the way you tackle subjects that often have to do with present time and real life. Would you say that you have a spontaneous inclination for using your art to comment, with a critical bent, on topical matters? Or in other words, is working for the press something that suits you more particularly?
V. N.: I definitely enjoy doing editorial illustrations a lot. I realized it was quite difficult for my mind to generate an image without some sort of content. My drawings always start from an idea or a story. So I guess the current issues and topics serve as jumping boards to get the illustration and creation process rolling.
I also really enjoy the process of problem solving: getting an assignment, understanding the mission and trying to figure out the best solution to it within the given time.
Being able to convert an abstract concept or argument into powerful visuals is something very exciting for me; the satisfaction is kind of like solving a five-star level Suduko question, only better.

OBI: The experience of feeling uprooted runs through your bio, and it finds a direct artistic expression in your recent piece, Lost in Translation. In your case, we soon get to realize that what has been lost in translation is your own name, so when you say that you find your true identity in being an illustrator, this is a rather strong statement. Do you feel that your artistic identity has been spared this instability, or has it been influenced and shaken and by it too?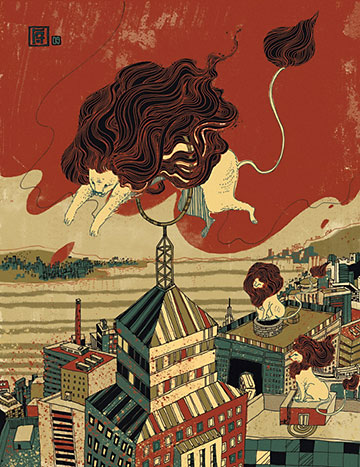 V. N.: I would say the instability and my artistic identity are in a very complicated relationship.
I think the instability actually gave birth to my artistic identity; while my artistic identity has saved me from personal crises due to instability.
When I was young, my family had to move around a lot, so it was almost impossible for me to make friends. Since I am the only child and my parents were always busy, my childhood was rather lonely.
I started drawing to keep myself entertained and in company. I would create characters and have all sorts of adventures with them in the worlds on paper. (Thinking back now, maybe because the only drawing utensils I had at that time were writing pens, line drawing became the most natural artistic expression for me.) At some point, other kids started gathering around me whenever I was drawing at school. And through drawing, I was able to make friends with people from Hong Kong, UK, Japan, America and around the world.
Drawing/illustration has never been just a habit or a job for me, it defines me.

OBI: You're now starting your career as a freelance illustrator: ideally, what sort of assignment would you be looking for at this point, and what will your first steps be? And ideally again, how do you picture yourself five years from now?
V. N.: I am up for any kind of illustration job at the moment, really. One of my very first goals is to be hired by a second art director. My works have been published a few times so far but they were all commissioned by the same art director: SooJin Buzelli. (SooJin took the chance and gave me my first job when I was still a junior, so I am very thankful to her.) I think I need the experience of working for a second art director to convince myself that I will be able to survive doing freelancing. I have been sending out promotional e-mails to art directors lately. I plan on mailing out postcards next. Then hopefully I will be able to meet with some of of them to show my portfolio after I move to NYC in September.
Ideally after five years, I want to be able to support myself and my parents by doing freelance illustrations. I hope I will improve enough so that all the portfolio pieces I am proud of right now will be replaced by new works. I also wish to see my works being used in different places: t-shirts, advertisements, animations, children's books…
More interviews from the Present Tense section »
All the pictures included in this article are copyrighted to Victo Ngai.
If you would like to be the illustrator featured in this section, please read our guidelines.