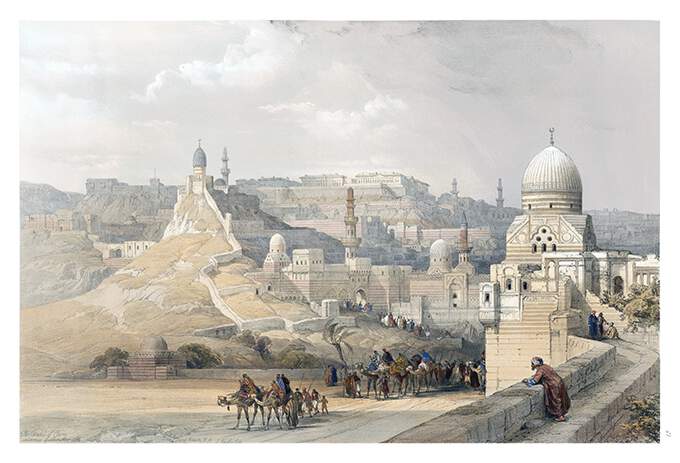 Artist
Name:

Dates:

Country:
Illustration
Subject:

Technique:

Lithographer:

Format:

Source:
Book
Title:

Author(s):

Publisher:
Description
View of the Cairo Citadel, a fortress complex initiated by Saladin in 1176 and seat of Egyptians rulers up to the 19th century. The authors describe it as follows:
This striking view is taken from a ruined mosque near the city walls, and looking towards the rock of the citadel, which stretches along the horizon, from where it intercepts the range of the distant Mocattam hills to the Great Mosque of the Sultan Hassan. Between the observer and the hill of the citadel lies the great necropolis of Cairo, that part of the eastern desert which extends from its walls to the Mocattam range, in which the dead of ages are laid, and where those splendid religious edifices are found which are commonly called the Tombs of the sultans. The ruined mosque in the foreground is built in an angle of the city wall. From one of the gates below a caravan is seen issuing, and masses of building which intervene between the ruined mosque and the Citadel are broken by the domes and minarets of the mosques of Cairo.

The citadel itself is covered with a range of buildings, that present in this view rather the appearance of a barracks than the palace and mosque of the Pasha, where he holds his court, though his domestic residence is in the isle of Shoubra.
Keywords: 1840s, 19th century, Africa, cityscape, color, dome, Egypt, Egypt & Nubia, fort, reference book, Roberts's Holy Land, Victorian
Share this: