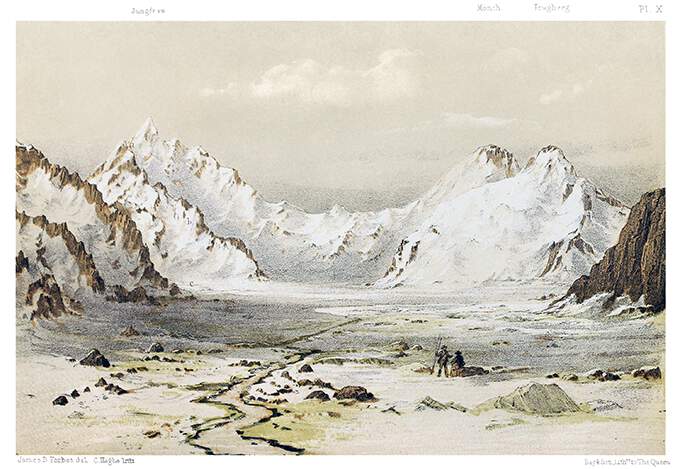 Artist
Name:

Dates:

Country:
Illustration
Subject:

Technique:

Lithographer:

Format:

Source:
Book
Title:

Author(s):

Publisher:

Open Library:

View record
Description
View of the northern end of the Aletsch Glacier, located in the Bernese Alps, with the Jungfrau, the Mönch, and the Trugberg seen from their southern sides. The author describes his approach of the Jungfrau as follows:
Fortunately, walking is comparatively easy on the upper part of the Aletsch glacier, for its extent is very great. We had not much trouble in traversing the crevasses, and each advanced in his own path without much communication. […]

At first we had the Mönch right in front, the great Eigher a little behind it, and to the right. Soon after reaching the glacier, the Jungfrau itself appeared. […]

We were somewhat exhausted by the rapidity of our march from the chalets, and partook of bread and wine. Then the serious task of putting on gaiters which Jacob performed with more than common solemnity and deliberation. After half an hour we started forward up the narrowing and steepening névé, always with splendid weather. The walking became more laborious from the depth of the snow, but we followed all in one another's steps. Crevasses in the higher firn commenced, and the rope was produced.
Share this: