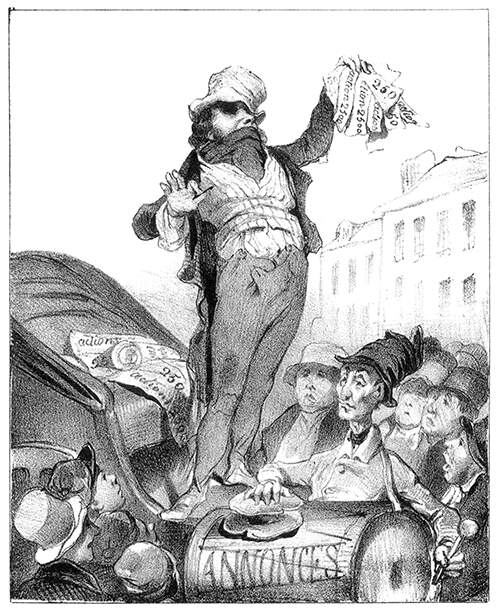 Artist
Name:

Dates:

Country:
Illustration
Subject:

Technique:

Format:

Source:
Book
Title:

Author(s):

Publisher:

Open Library:

View record.
Description
A peddler stands at the rear of a carriage and sells stocks to the crowd gathered around him as his sidekick beats a drum. The caption reads in the original French:
Messieurs et dames !
— Les mines d'argent, les mines d'or, les mines de diamant ne sont que de la pot-bouille, de la ratatouille en comparaison de ma houille… Mais (que vous m'allez dire), tu vends alors tes actions un million ? Mes actions, messieurs, je ne les vends pas je les donne pour deux cents misérables francs, j'en donne deux pour une, je donne une aiguille, un cure-oreille, un passe-lacet, et je vous donne encore ma bénédiction par-dessus le marché… En avant la grosse caisse !
Share this: