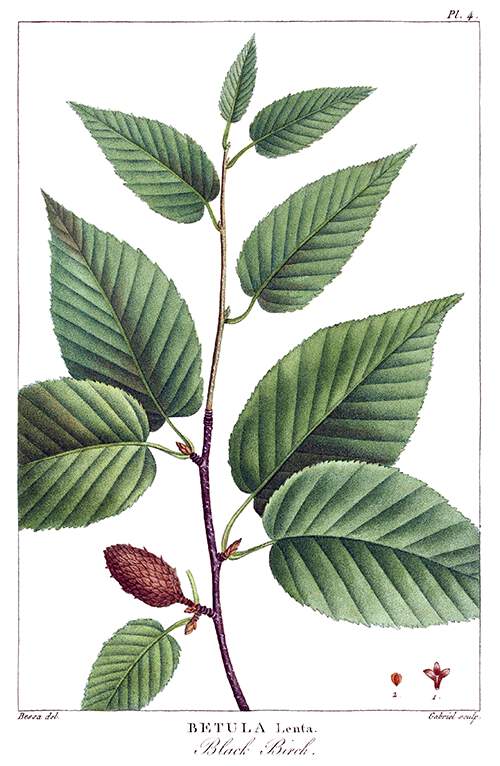 Artist
Name:

Dates:

Country:
Illustration
Subject:

Technique:

Engraver:

Format:

Source:
Book
Title:

Author(s):

Publisher:

Open Library:

View record
Description
Stipple engraving showing leaves and fertile aments on a branch of black birch (Betula lenta), a tree in the family Betulaceae native to North America. This tree is described as follows by the author:
The young shoots are brown, smooth, and dotted with white, as are also the leaves. When bruised, the leaves diffuse a very sweet odor; and, as they retain this property when dried and carefully preserved, they afford an agreeable infusion, with the addition of sugar and milk.
The barren flowers of the black birch are disposed in flexible aments about four inches long. The fertile aments, which are commonly situated at the extremity of the young branches, are ten or twelve lines long and five or six lines in diameter, straight, cylindrical, and nearly sessile at the season of the maturity of the seed, which is about the first of November.
The bark, upon the trunk of trees less than eight inches in diameter, is smooth, grayish, and perfectly similar in its color and organization to that of the cherry tree. On old trees, the epidermis detaches itself transversely, at intervals, in hard ligneous plates, six or eight inches (fifteen or twenty centimeters) broad.
Translation by Augustus Lucas Hillhouse.
Share this: