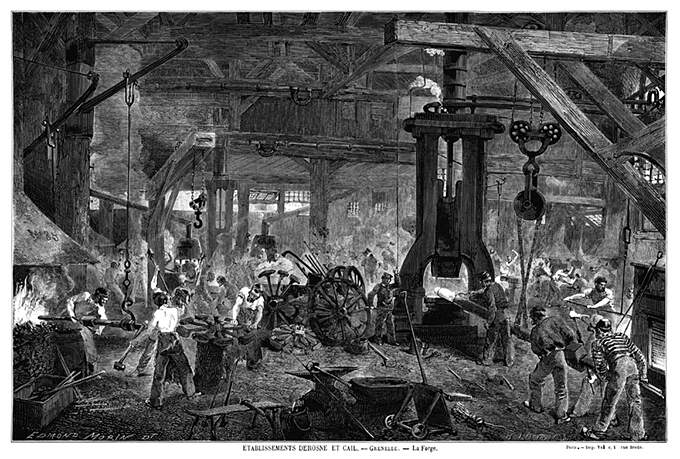 Artist
Name:

Dates:

Country:
Illustration
Subject:

Technique:

Engraver:

Format:

Source:
Book
Title:

Author(s):

Publisher:

Open Library:

View record
Description
View of the forge at the Derosne & Cail Company showing workers heating and hammering metal parts, or busy around drop hammers in a large and bustling workshop.
The Derosne & Cail Company was active during most of the nineteenth century, under various names and shareholders. Its main activities consisted of building of sugar mills, railway locomotives, and metal bridges. After the Chaillot plant burned down in 1865, the Grenelle factory remained the only one active in Paris. The Cail Company is mentioned in Jules Verne's Twenty Thousand Leagues Under the Sea as the maker of parts for the Nautilus submarine[1].
The caption reads in the original French: Établissements Derosne et Cail. — Grenelle. — La Forge.
Share this: