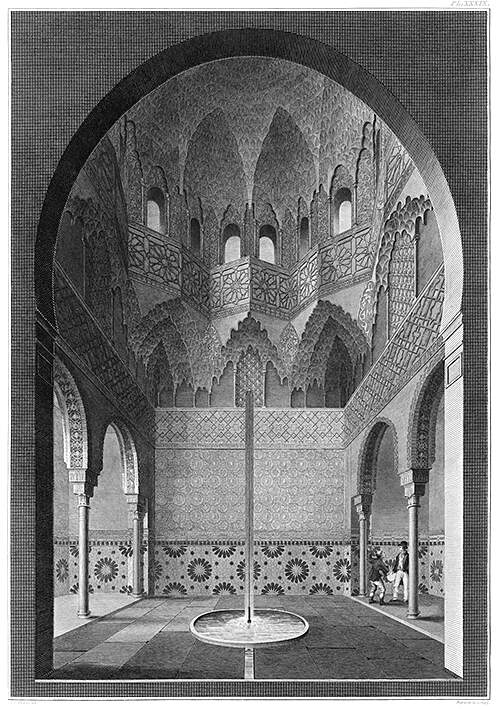 Artist
Name:

Dates:

Country:
Illustration
Subject:

Technique:

Engraver:

Format:

Source:
Book
Title:

Author(s):

Publisher:

Open Library:

View record.
Description
View of the hall of the Abencerrages, at the Alhambra, showing the richly decorated walls and cupola, and the fountain at the center. This plate is commented as follows by the author:
Opposite to the Sala de dos Hermanas, is the Sala de los Abencerrages, or Hall of the Abencerrages, so called from the massacre of that illustrious tribe […].
The Hall of the Abencerrages appears to have been a central saloon communicating with the other apartments of the palace. Every possible variety of combinations, which can be devised by ingenuity or patience, is employed to decorate the walls and ceiling; and is executed in the most exquisite manner that can be conceived. The lines regularly cross each other in a thousand forms; and, after manifold windings, return to the spot whence they first begin. […] These uncommon designs appear again in different parts, and were probably formed by pouring prepared gypsum into moulds, and, after applying it to the walls, by painting it with gold, azure, and purple. The ceiling itself is equally extraordinary, and worthy of admiration: it presents a series of grottos, from which depend stalactites, painted of various colours.
The title page of this book mentions 1813 as the date of publication and it is the one we chose to follow, as being officially provided by the publisher. It should be noted, however, that every plate in the book comes with the following inscription: London. Published by Cadell & Davies. June 1st. 1815.
In addition, the page facing the first illustration mentions the "just published" History of the Mahometan Empire in Spain by Thomas Hartwell Horne, a book which was first published in 1816. Therefore, it doesn't seem unreasonable to believe that the actual date of publication of the edition presented here might have been 1816 and not 1813.
Share this: